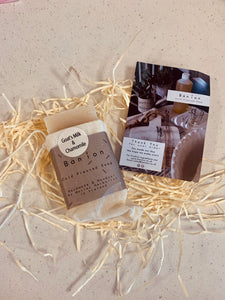 Goats Milk & Chamomile Soap from Bán íon Soap.
Handmade Soaps from Bán íon Soap in County Down Northern Ireland.
Nature Inspired Botanical Soap
100% Natural / SLS, Paraben & Palm Oil Free / Not Tested on Animals / 100% Vegetarian / Expertly Handcrafted & Glycerine Rich.
Indulge in our natural botanical soap bars, handmade in small batches that are good for you and good for the environment.
All soaps are handmade in small batches with the oils of Olive &.Coconut. Enriched with Shea butter and high in naturally produced Glycerine to help keep your skin moisturised and healthy. The base oils for our shampoo bars have been chosen specifically for hair and scalp properties including organic castor, sweet almond & Jojoba Oil.